Advertisements
Irish singer Mary Black has teamed up with Specsavers Letterkenny and Donegal Town this Healthy Hearing Month, to encourage the nation to take action and look after their hearing.
In the third year of Specsavers' Healthy Hearing Month campaign, Mary has joined audiology experts to turn up the volume on hearing health, as she opens up about her own personal hearing loss journey.
Hearing loss is experienced by around one in 12 Irish adults and affects people of all ages. Your hearing changes over time and for different reasons, which is why people experience different types of loss at different stages in life. Despite this, many people ignore the signs of hearing loss, and that is something that needs to change. Specsavers pledged to test and screen a quarter of a million people over a two-year period and are incredibly close to reaching this target.
Recent research, from Specsavers, found that 42% of adults are currently struggling with their hearing or know a loved one who is struggling. 1 in 5 people in Ireland mishear what people nearby are saying, while others struggle to hear doorbells (18%) and hear the phone ring (15%). Almost six in 10 (57%) of those struggling with hearing loss claims they had to ask people to repeat themselves recently and half (50%) noticed themselves turning up the television higher than normal.
Yet almost a third of adults (28%) have never gone for a routine hearing test.
Mary says: 'Working in the music industry, I've come to understand how important looking after my hearing is, not only for my career but for my overall quality of life. Over the last number of years, I have noticed my hearing deteriorated, most likely due to being close to loud monitors on stage but I really noticed it more after I had Ramsay Hunt Syndrome – which occurs when a shingles outbreak affects the facial nerve near one of your ears. I recently got my hearing checked and the audiologist at my local Specsavers store let me know that I'd really benefit from hearing aids."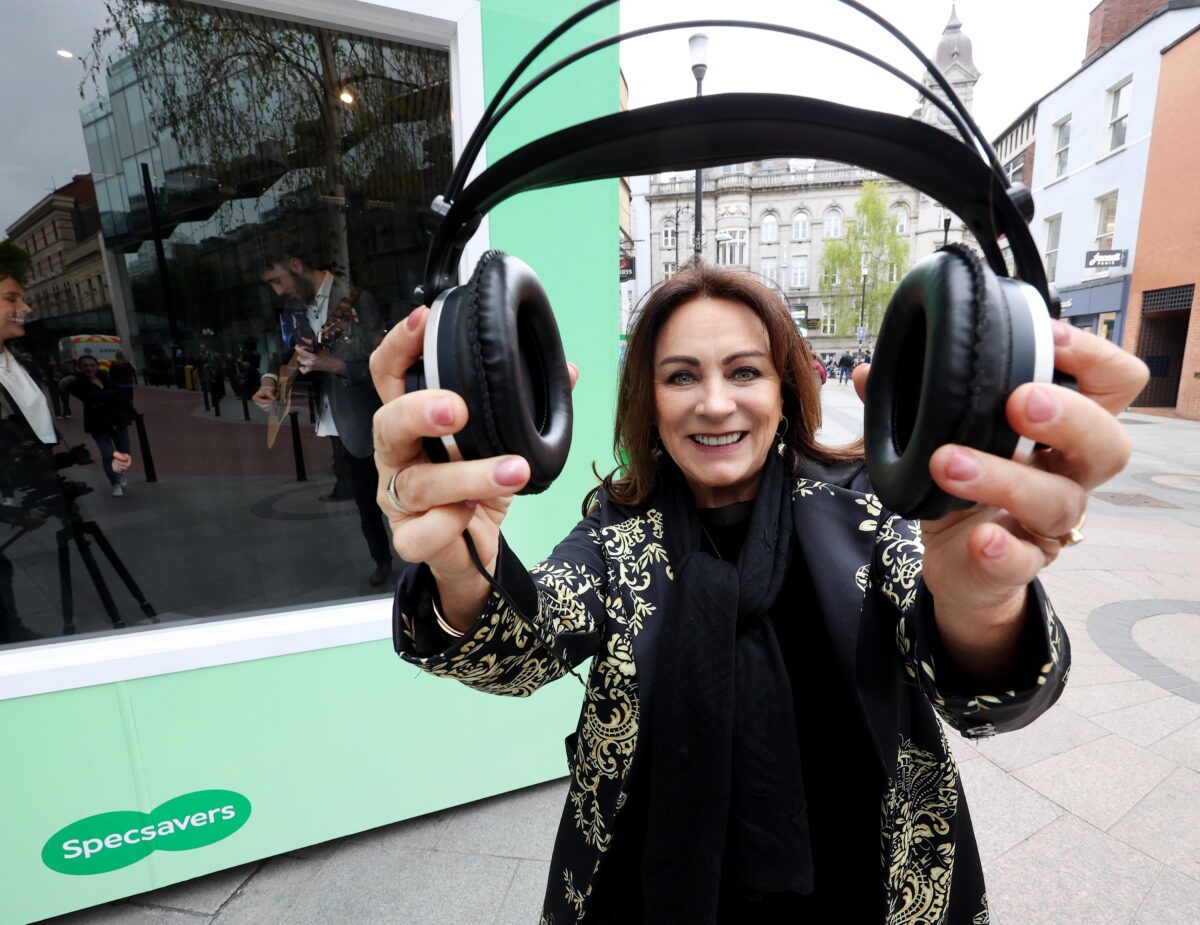 Mary continued: 'Once these were fitted, I couldn't believe the difference they made to my life. I love singing and performing and listening to music and being able to hear everything more clearly over the last few weeks has been fantastic. Nobody wants to be left missing sounds so it's important that we work together to normalize the conversation around hearing loss and encourage people who might be struggling to seek help from an expert.'
Speaking about the launch of Healthy Hearing Month this April, Specsavers Audiology Chairperson Martina McNulty and Hearcare Director in Specsavers Letterkenny, says: 'As a business, we've made it our mission to change the conversation around our hearing health and break down the stigma that exists. We want to encourage more people to think about their hearing as part of their overall health. If you've noticed any changes in your hearing or have any concerns, we can help.'
Getting a hearing aid is all about finding what's right for you, understanding your hearing needs, your lifestyle and your budget. Specsavers Letterkenny offers a wide range of hearing aids, including its own Specsavers Advance range. Advance hearing aids feature some of the latest technology, at Specsavers prices. Features can include background noise reduction, mobile audio streaming from a device such as a phone, wireless connectivity, app connectivity, and rechargeability.
Specsavers also offers PRSI Treatment Benefits for those who are eligible. Through the scheme you can avail of a pair of hearing aids up to the value of €1,000 or put their PRSI contribution towards the cost of a more expensive pair of hearing aids at Specsavers.
To book an appointment, call the Specsavers Letterkenny store on 0749167040. Book your appointment at the Donegal Town store by calling 0749742686. See https://www.specsavers.ie/stores/ for more details.
Mary Black opens up about her hearing loss during Specsavers' Healthy Hearing Month was last modified: April 29th, 2023 by Rachel McLaughlin