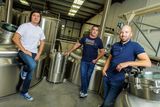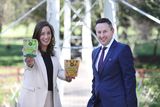 Two of Sligo's local food and drinks producers picked up awards in the inaugural Homegrown by Maxol programme, a month-long search for Ireland's finest small to medium sized businesses.
With just six 2023 winners announced, two hailed from Sligo: The White Hag, a contemporary independent brewery and Good4U a range of functional, healthy snacks, salad toppers and breakfast boost.
The White Hag Irish Brewing Company is an award-winning craft brewery, which specializes in contemporary beer with the influence of ancient styles. Built by a young Irish team and with a brew team bringing experience from across Europe, it is regarded as one of the most innovative and modern Irish breweries today.
The White Hag is a mythical character and entity, who is essentially Mother Nature. The brewery has undertaken a mission to make great Irish beer, and in some cases to recreate beer that has not been made here for hundreds of years.
Their outstanding range of IPAs, sour beers and stouts saw them crowned Irish Brewery of the year in 2022, for the second time. The White Hag exports their famous beer across Europe and even into Asia.
They are world famous for their International Brewery festival Hagstravaganza, held each August at their modern brewery in Ballymote, Sligo.
A multi-award winning, wholesome family business, Good 4U produces an on-trend innovative range of functional, healthy foods including snacks for kids and adults, salad toppers, and breakfast boosts.
Being an Origin Green member for the last six years, this close-knit family business offers a range of products that are 100% natural and contain only whole food, plant-based ingredients.
While the initial program sought to reward four indigenous producers, such was the caliber and scale of entries that six winners were chosen from more than 100 hotly contested submissions. An expert panel of judges reviewed the entries before the six winners were finalized.