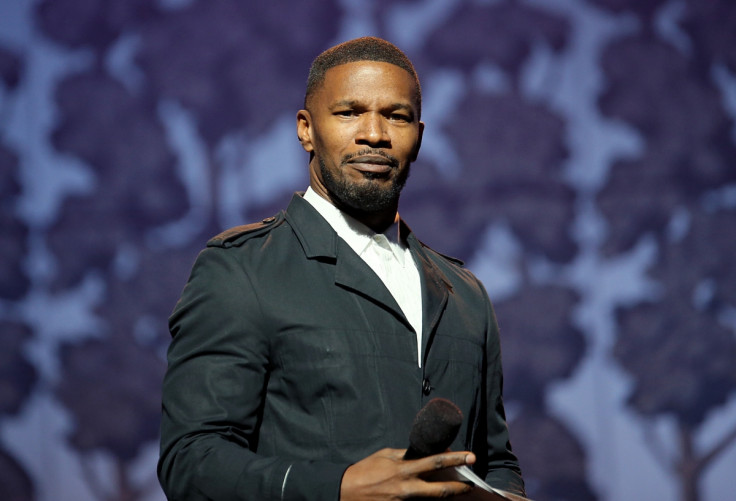 Jamie Foxx was seen looking healthy and cheerful on Sunday while on a boat in Chicago. It was his first public appearance since he was hospitalized in April.
The actor appeared happy while aboard a mega-boat cruising along the Chicago River. Footage from TMZ showed him waving as a neighboring vessel passed by and its passengers cheered at him. He also gave them a peace sign and a big smile before he looked down at the phone in his hand.
The 55-year-old appeared to be with some family members who have been by his side since news of his hospitalization broke in April. At close inspection, his daughter Annalize Bishop, 13, with her remarkable hair, can be seen sitting up front. His eldest daughter Corinne Foxx, 29, seems to be on the boat too, seated beside her sister.
The publication claimed to have more footage of the actor up and about in Chicago. He reportedly spent a night out on the town and appeared to be "in great spirits there too." Foxx also took to Twitter to talk about his boat ride writing, "Boat life Celebrating summer with @brownsugarbbn Stay blessed!"
This is the first glimpse at the "Django Unchained" star in the flesh since friends and family members confirmed through news outlets and social media that he is on the road to recovery after he suffered a medical complication in April that sent him to the hospital and to a rehab facility in Chicago afterwards.
On April 12, Corinne issued a statement to confirm her father's hospitalization writing, "We wanted to share that my father, Jamie Foxx, experienced a medical complication. Yesterday fortunately, due to quick action and great care, he is already on his way to recovery. We know how beloved he is and appreciate your prayers. The family asks for privacy during this time." He was in Atlanta at the time filming his new Netflix film "Back in Action" which also stars Glenn Close and Cameron Diaz.
There have been a lot of speculations about his illness as none of the family and even close friends shared any more details. In May, Foxx broke his silence about his hospital stay in an Instagram post that read, "Appreciate all the love. Feeling blessed."
Corinne again took to her Instagram Stories on May 12 to update fans about her father's recovery amid claims that he suffered a stroke after he took a booster for the COVID-19 vaccine and that family members are preparing for the worst. She said that she had been out of the hospital for weeks and had been up on her feet.
She wrote, "Update from the family: Sad to see how the media runs wild. My Dad has been out of the hospital for weeks, recuperating. In fact, he was playing pickleball yesterday! Thanks for everyone's prayers and support! We have an exciting work announcement coming next week too!"
Thereafter, photos appeared online showing Corinne and another family member outside a rehab facility in Chicago. The actor reportedly checked into a physical rehab center following his hospitalization.
During the Los Angeles premiere of their film "They Cloned Tyrone" on June 26, John Boyega said that he got to speak on the phone with the actor. He shared his relief when Foxx picked up the call and said his co-star was "doing well" and that he "can't wait for his return."
Likewise, Datari Turner, who co-produced "They Cloned Tyrone" with Foxx, spoke positively about the actor's health. He chimed in, "He's doing amazing. I promise you. Doing really, really good."
Foxx has yet to address concerns about his health and answer questions about his "medical complications." But it is good to see him back in public again and looking healthy and happy too.